The "secret river" has long been an obsession of dabblers, perhaps since the times when we lived in caves, and our ancestors listened to the murmer of distant torrents tumbling through unseen chambers below. Of course there must be underground confluences everywhere we walk, but in London, the ever-layered city, these hidden places can be accessed.
Numerous 'lost' rivers
flow beneath the city's streets
, the most famous of which is
The Fleet
. Less well known is The Tyburn, which runs under a large part of the more valuable bits of the West End (including, sewer dwelling terrorists please note, Buckingham Palace) before trickling out into the Thames at Pimlico.
The course does not fully discharge here. The water pools and creeps beneath the city. Culverts carry the main flow eastwards under the embankment all the way to Barking Creek, along the elaborate subterranean arteries of
Bazalgette
, surely one of London's noblest achitects.
En route, the river's gurgle can be heard. On Tachbrook street in Pimlico, the sound of the river is clearly audible, rising up through the blank eyed manhole covers, allowing you to hear what the poet Glyn Maxwell called 'the city-licking sound of water moving slowly through the Thames like years in thought.'And in one special place, the mysterious brook is claimed to resurface and be visible - in the basement of Grey's Antiques in Mayfair.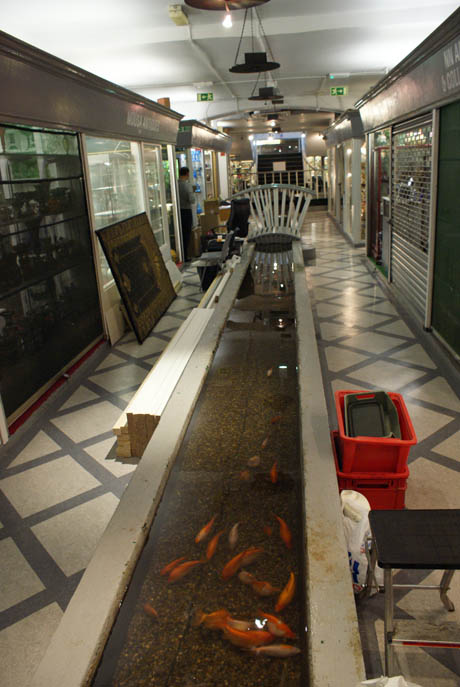 This is such a lovely prospect and a fine sight that one wishes it to be true. Unfortunately, when you consider that the entire underground course is no longer really a river at all, but one of London's most noisome sewers (Officially The King's Scholars' Pond Sewer), the provenance of the crystal clear waters babbling through the antique shop begins to look a little muddied.
Who would miss the great grey lumps of Mayfair, when we could be reconnecting the inland with the sea, irrigating the concrete deserts and opening up the scleroid arteries of the great river, letting light and air and crisp clear water run freely through the streets?